After three days of strike, the Los Angeles school district resumes classes this Friday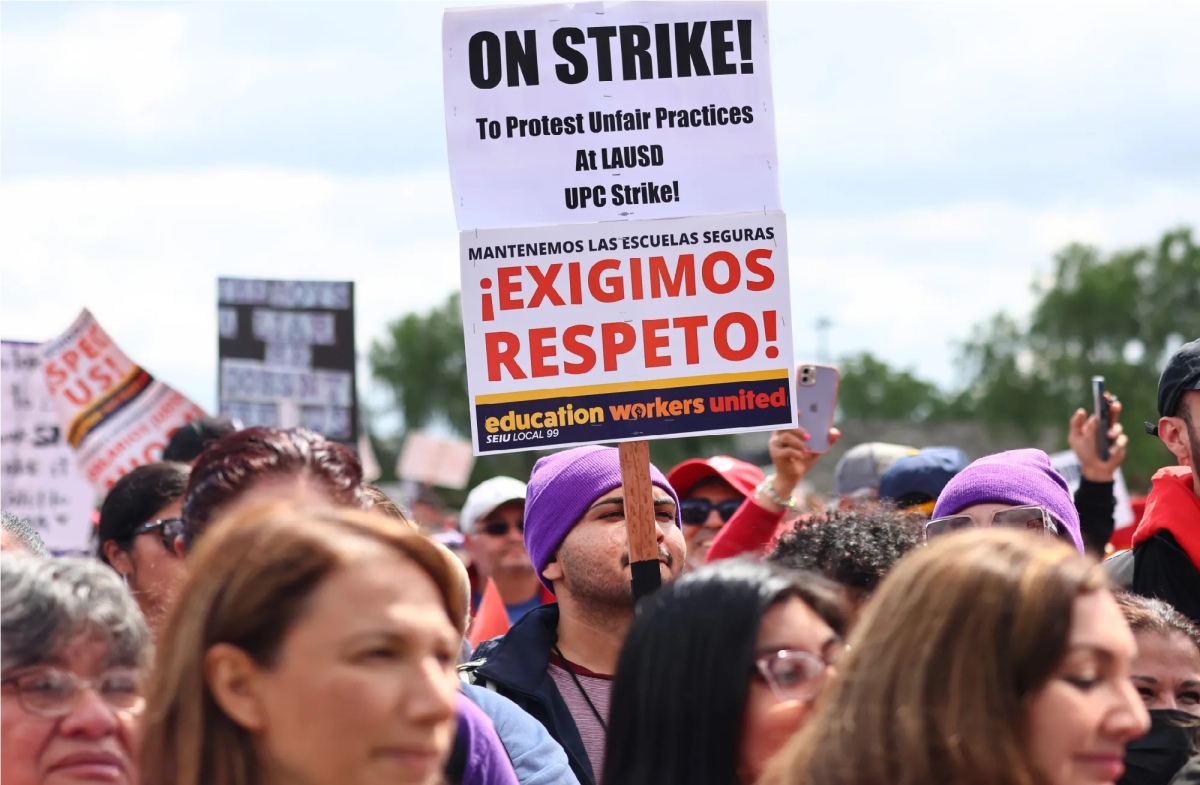 Despite not receiving a response to their salary demands, workers announced that they will return this Friday to his work in LAUSD schools; Striking employees thanked teachers and parents for their support
Despite not reaching a new labor agreement, service workers from the Los Angeles Unified School District (LAUSD) return to work this Friday after a three-day strike that forced the closure of schools.
This Thursday, on the third and final day of the work stoppage, members of the SEIU Local 99 union thanked them for the support they received during these three days, especially from the United Teachers Los Angeles union, whose members joined the strike.
LA IS UNITED BEHIND EDUCATION WORKERS AND PUBLIC SCHOOLS

Education workers, parents, students and community members have been on strike for three days.

We are now three days closer to winning respect, dignity and a living wage for workers and school communities. pic.twitter.com/loSEf0jEjm

— United Teachers Los Angeles (@UTLAnow) March 23, 2023
SEIU Local 99 represents nearly 30,000 LAUSD service workers, including bus drivers, custodians, cafeteria workers, and special education aides and other support workers.
"We hope for a change, that we see the union of all the workers, of the teachers, and that there be a change for the benefit of all the children," expressed the bus driver Hamany Castro, to the Univisión network.
Like Castro, the thousands of LAUSD service employees trusted the district to meet their demands for a fair wage increase. According to SEIU Local 99, workers earn a salary of $25,000 per year.
All @LASchools will reopen this Friday, March 24. We are grateful for the help and support from our partners, and we are delighted to see our students and staff back in schools. pic.twitter.com/NvKhlHjDwo

— Los Angeles Unified (@LASchools) March 24, 2023
This Wednesday, it was reported that the mayor of Los Angeles, Karen Bass, participated as an intermediary between the district and union representatives in order to reach an agreement.
Still, on the last day of the strike, the workers expressed their hope that LAUSD officials could respond to their requests.
Despite no response, employees will return to work this Friday March 24, to resume activities for the district's 420,000 students.
This Thursday the three-day strike ended with a demonstration at the Los Angeles State Historic Park, an event attended by thousands of workers .
On Monday, before the start of the strike, LAUSD officials submitted an offer of a 30% pay increase, but SEIU Local 99 was demanding a 30% increase.