Guatemalans in LA vote to elect president amid complaints and obstacles
Time to Read: 4 minute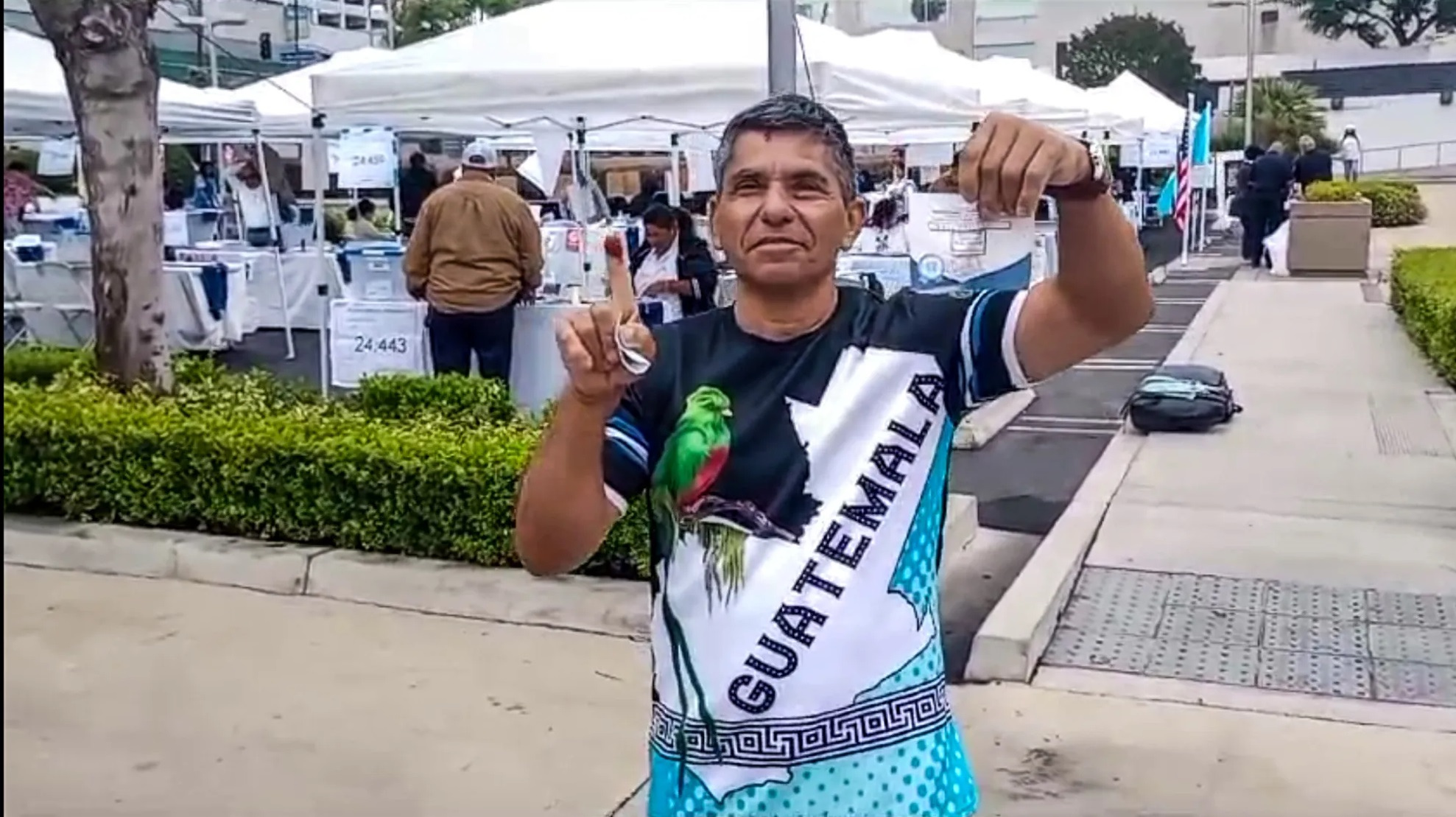 After eight hours after opening the polling station, the table of the Guatemalan leader had 15 votes
Mrs. Teresa Escalante, a Guatemalan immigrant who has lived in Los Angeles for 44 years, went to vote this Sunday at a polling station in Hollywood to elect her country's president and vice president, but, after her attempt, Mrs. explained to La Opinion that she felt frustrated.
"I came here excited because it was the first time in my life that I was going to vote in an election in Guatemala, because when I lived there I never voted and as an American I have already voted several times, but this was the first time I was going to vote for my country of birth," Dona Teresa said.
The immigrant was registered and the electoral authorities granted her, her Personal Identification Document or DPI, the credential that is required for all voters with up-to-date registration in their country.
But at the polling station this Sunday "they checked several times and did not find me" on the list of voters registered to vote.
This is the second time that Guatemalans in the abroad vote to elect president and vice president, the first was in 2019, and Mrs. Teresa was then unable to participate. "I will have to wait four more years," when I have been out of Guatemala for almost half a century, "to vote for my country, but I am going to do it, because a change is needed," she said.
Also frustrated, but also "very upset," Mario Castillo, who has lived in Los Angeles for 40 years, said that when he showed up to vote Sunday morning at the Guatemalan polling place in Hollywood, "they told me that it was his turn in San Francisco."
Don Mario participated in the 2019 election from Los Angeles, he has the same DPI he used then, none of his data has changed, and until the moment he showed up to vote he found out that the authorities electoral had registered it, but for a polling station 400 miles north of Los Angeles.
"I feel very upset", said don Mario, "there is no way or where one can complain". He considered that they had just "disowned my constitutional right, and there is nothing I can do."
Mr. Mario said he suspected that the Guatemalan electoral authorities deliberately hindered the election of the chapines abroad, "it is that we have no other explanation for so many errors," he declared.
Walter Batres, the president of the Guatemalan Migrant Network, who participated as a prosecutor in one of the 27 tables in Hollywood, confirmed a few hours after the closing of polling stations that "all day there have been more people who cannot vote than those who have been able to."
He said that there were more voters "who did not find them on the lists at the polling stations, that they were in other cities, far away, like San Francisco or Las Vegas, and even that this time they were in their places of origin in Guatemala," even though they have lived in Los Angeles for decades.
People who faced those obstacles only found out when they showed up to vote.
Batres said that frustration makes it difficult for Guatemalans to want to participate in the elections from abroad.
"Yesterday I told La Opinion that I expected some 600 voters to arrive at each of the two voting centers, but I think I was too optimistic; perhaps 600 did arrive throughout the day, but they were able to vote much less."
Eight hours after opening the polling station, the Guatemalan leader's table had 15 votes; At the next table, seven had voted, and the next table said that it had "between seven and eight" voters.
Those who were able to participate, on the other hand, expressed satisfaction.
Mr. Sergio Colindres wore a T-shirt with the map of Guatemala, the colors blue and white, and the name of his country. He posed for a photo while showing off his inked fingerprint,
Maya Arely Payeras, who voted for the first time after living eleven years in Los Angeles, also showed proof of her participation.
Security and seeking political change, especially one that recognizes to Guatemalan migrants who send some $20 billion in remittances annually.
One in five Guatemalans lives in the United States, some four million immigrants in total. More than a million reside in California,
According to press releases, in Guatemala election day there were riots in which riot police had to intervene in several places, burning ballots, suspension of elections and close to a hundred complaints of coercion to vote.
Read full article