Cerberus heat wave in Europe forces the closure of the Acropolis of Athens
Time to Read: 2 minute
The Acropolis of Athens was closed during the hottest hours of the day to protect visitors from an intense heat wave hitting Greece
The Acropolis in Athens was closed during the hottest hours of the day to protect visitors from an intense heat wave sweeping Greece.
Tourists were barred from entering the country's most popular attraction between 12:00 and 17:00 local time.
Athens is registering temperatures of more than 40ºC (104 F).
Much of southern Europe is experiencing an extreme heat wave with record temperatures expected over the next week.
There are also fears in Greece of an increased risk of forest fires, especially in areas with strong winds. This occurred in 2021 during another exceptional heat wave.
Greece's Ministry of Culture announced the closure of the Acropolis on Friday and said similar measures could be taken on Saturday.
Temperatures were expected to peak at 41°C (105 F) in central Athens for the noon on Friday, but the Acropolis sits on top of a rocky hill and is usually hotter.
There is little shade on the hill for lounging.
The site is usually open from 8:00 in the morning to 8:00 at night. Other tourist spots around the Sacred Rock where the Acropolis is located remained open throughout the day.
In recent days, the Greek Red Cross has been deployed to provide bottled water to help people feeling nauseated and dizzy from the heat.
People have been advised to drink at least two liters of water a day and avoid coffee and alcohol, which dehydrate.
Wave of heat global heat
In Croatia, fires broke out on Thursday, burning houses and cars in at least one town, Grebastica, on the Dalmatian coast. Authorities told Croatian television on Friday morning that the fire had been brought under control.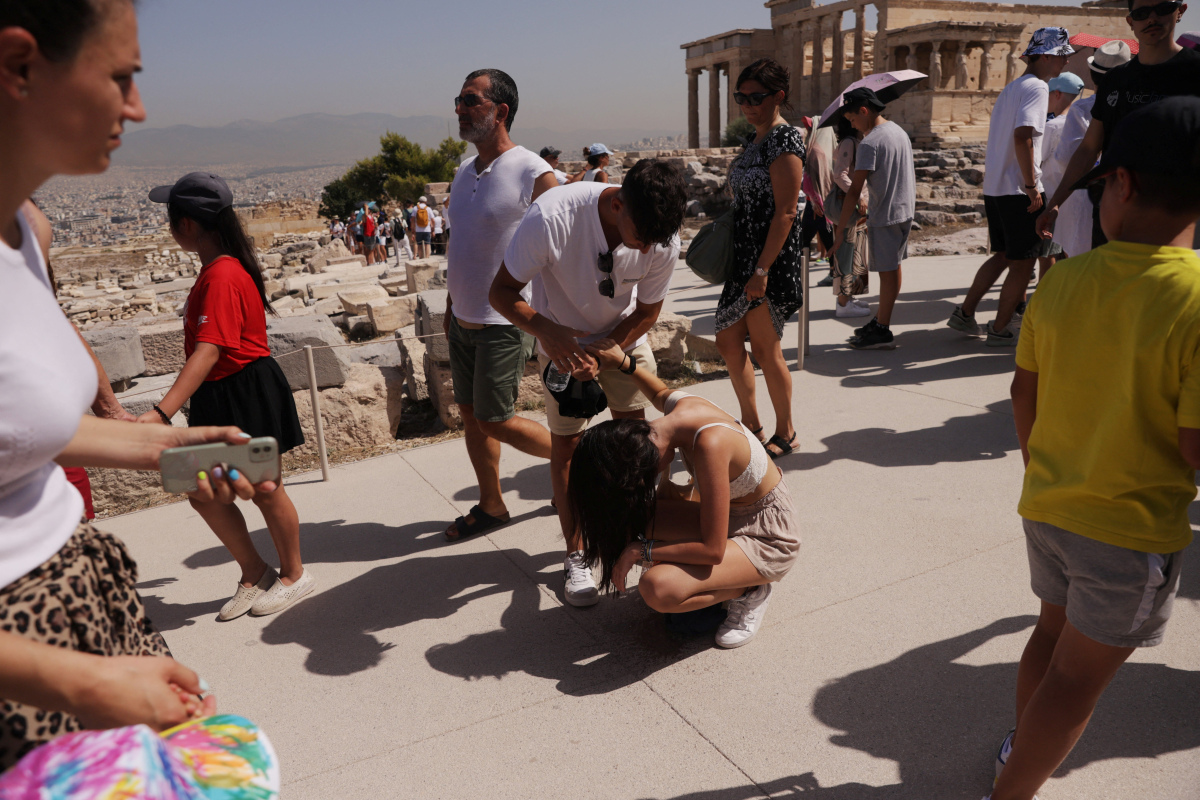 Earlier this week, a man in his forties died from heat in northern Italy, while several visitors to the country collapsed from heat stroke.
Italy suffers the heat wave Cerberus, named by the Italian Meteorological Society after the three-headed monster that appears in Dante's Inferno.
It was expected to peak on Friday, but Italian forecasters warn that The upcoming heat wave, nicknamed Charon after the ferryman who brought souls to the underworld in Greek mythology, will see temperatures climb back above 40°C next week.
Heat waves are also being seen in parts of the US, China , North Africa and Japan.
Last month was the hottest June on record, according to the EU's climate monitoring service Copernicus (the European Union's Earth observation and monitoring program ).
Extreme weather resulting from global warming is "unfortunately becoming the new normal," the World Meteorological Organization (WMO) has warned.
Spells of intense heat occur within natural weather patterns, but globally they are becoming more frequent, more intense, and longer lasting.
Read full article