Salma Hayek twirls in eye-popping bikini at 57
Time to Read: 2 minute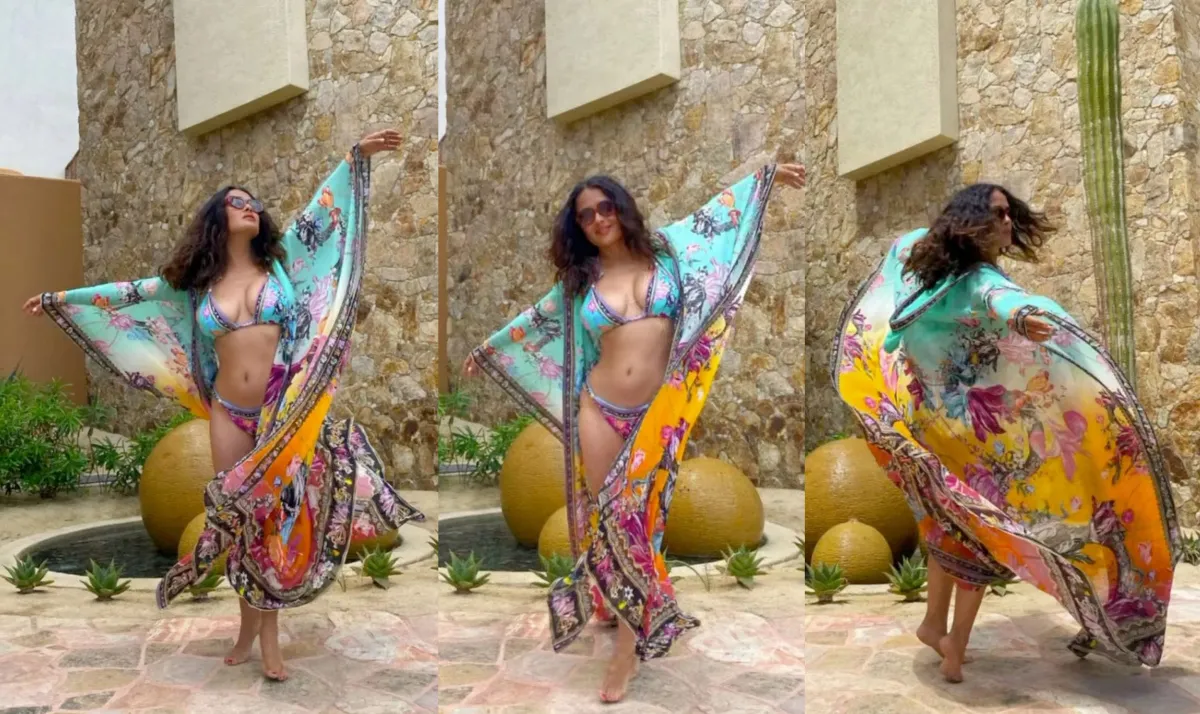 Salma Hayek tagged as drop dead gorgeous, at age 57 left her fans speachless while she twirled in a colourful two-piece bikini leting her fans imagine sge is half of her age.
Salma Hayek had fans telling her she "looks 27" as she twirled in one of her tiniest bikinis ever.
The star was celebrating ringing in her 57th birthday with a sultry Instagram post, posing up a storm in a multicoloured two-piece that left her slender tummy bare to the air.
Salma's curvaceous thighs took centre stage as she donned a plunging swimwear bra top and matching thong bottoms, with barely-there triangles of fabric just about avoiding an Instagram ban.
She added a floaty blue kimono over the top, decorated with pink and yellow flowers and performed a twirl for the camera, raising one arm above her head as the light fabric swirled around her.
Going barefoot for the bold video, Salma added a butterfly filter over the top of her post, giving the impression of a herd of lilac insects flying out from under her wrap as she turned, before flying towards the camera.
Salma let her brunette curls fall loose around her shoulders and added a pair of dark shades as she posed up a storm for her loyal legion of fans.
Salma wrote the captioned in her video: "Life is a series of phases with beginnings and ends, that's why sometimes it's ok to feel like butterflies even if we let a part of us go..."
She then translated the caption into Spanish as her fans flocked to the comments section to show Salma some love.
Fans commented "Must be nice being that freaking drop dead gorgeous!" as another fan wrote "She is 27!". Fans also wrote "Damn, you're 30 forever mama!" and, "Beautiful and magnificent queen!".
Salma looks like she's having a whale of a time after ringing in her 57th year, penning a heartfelt message online.
Salma wrote "I'm so happy to be alive and so profoundly grateful for all the blessings!!!", She also wrote: "My beloved family, my precious friends, my health, my work that keeps me going, my empowering team, my relationship with animals & nature, and the love of all my loyal fans". She concluded by writing "Happy 57th birthday to me!".
Read full article