Yailin the most viral and Tekashi 6ix9ine were partying at a nightclub in the Dominican Republic
Time to Read: 3 minute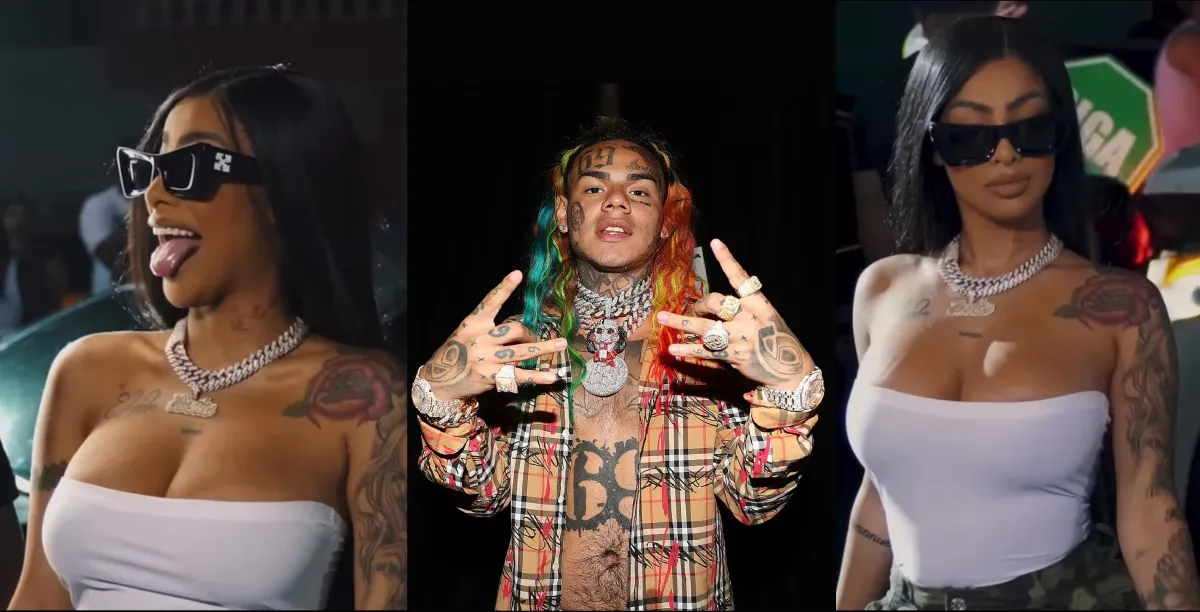 Like nothing! Yailin the most viiral and Tekashi 6ix9ine enjoyed a night of music at a nightclub in the Dominican Republic and forgot about legal and personal problems
Tekashi 6ix9ine and Yailin the most viral are as if nothing had happened weeks ago. They went to party in the Dominican Republic at a nightclub. There, the rapper seemed quite calm and serene.
she was wearing a yellow jacket and was next to Chivirika, who was singing songs and moving her body. However, as of the closing of this note, there is no video in which they say that they partied.
It has been very the opposite of what we have always seen: where everyone dances, drinks, sings and even distributes money. It was also possible to notice the moment in which they left the nightclub.
The owners in charge of the premises thanked them for their presence. They got into a car with their escorts and left. Yailin, the most viral, has remained absent on social networks and Tekashi 6ix9ine went to the town of La Vega to thank all the support they gave him while he was in prison.
Tekashi 6ix9ine distributed money and Yailin accompanied him
The singer of "Shaka Laka" He left prison with a regime of presentations. Also, after of having paid a bond of almost $10,000 directly to repay the support to the people of La Vega.
There, he put some people in his car and gave them money.
Even before leaving prison, Tekashi 69 thanked, through a statement via Instagram, the support that the Dominican Republic had given him. Since the Hip Hop exponent was deprived of his freedom, the streets of the city were filled with his fans demanding his release.
Why was Tekashi 6ix9ine imprisoned?
Yailin, the most viral, was in a studio with some music producers who work with Diamond La Mafia, another Dominican artist. Apparently, according to the version of the people who ended up denouncing Tekashi 6ix9ine, he himself appeared in the studio with a group of people and they beat up the producers.
All this happened, supposedly, after Yailin the most viral had a difference on the phone with him, due to an alleged attack of jealousy.
Through some videos from security cameras, Diamond La Mafia announced that, indeed, Tekashi 69 had entered the studio with a group of people. Later, music producers published videos with blood on the face and some injuries.
Days later, the "collaborator" de Yailin was detained in a hotel in La Vega and was tentatively taken to jail. For two days, the judge handling his case denied an appeal that his defense had presented. In which they said that, these producers were armed and also that Tekashi never hit them directly.
The fact is that, Tekashi was released on bail. He cannot leave the Dominican Republic in the next six months, as he has a filing regime. But what everyone wants to know most is whether the most viral is with Yailin. Everything seems to indicate that this relationship is going from strength to strength.
What happened to Yailin's pregnancy, the most viral of Tekashi 6ix9ine?
If Yailin the most viral is pregnant or not, just as she said the correspondent of the Univision show "El Gordo y La Flaca", Jordi Martín, she said on an Instagram that no.
So, that is the latest news that we have until now. moment. We will have to wait for time to pass and see what happens with Tekashi in legal matters.
Read full article