Three strong earthquakes shake southern Chile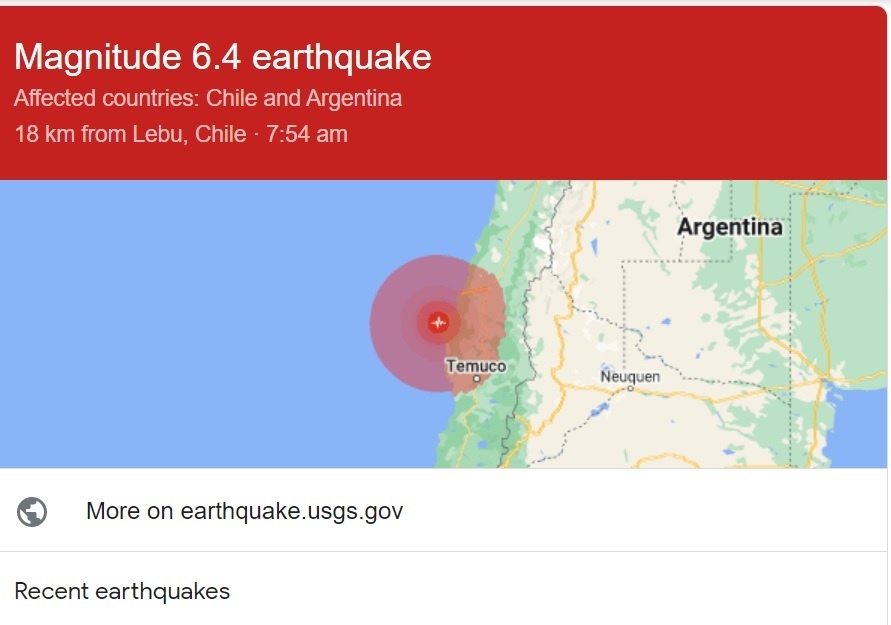 The telluric movements that occurred in the Araucanía region followed one another a few seconds apart and marked between 6.2 and 5.2 intensity, according to the seismological center of the University of Chile.
Three earthquakes that reached a maximum of 6.2 degrees on the open Richter scale, shook this Saturday (11.12.2022) the Chilean town of Lubu , in the Araucanía region, leaving minor damage to infrastructure and without so far informed of possible victims.
The three telluric movements occurred at 11:24 p.m. local time, with a few seconds of difference, and marked 6.2, then 5.2 and almost a minute later 6.2 according to measurements from the seismological center of the University of Chile .
The source also indicated that the tsunami alert has not been triggered in the Bío Bío province , located more than 500 kilometers south of Santiago de Chile.
🔴 #AlertaT13 | SHOA indica que características del sismo NO reúnen las condiciones necesarias para generar un tsunami en las costas de Chile

» https://t.co/XEHkd8HVmx https://t.co/hj5uQLtHiJ

— T13 (@T13) November 13, 2022
The Bío Bío Chile news portal reported that "at least eight earthquakes were felt this Saturday night and early Sunday, between the Maule and Los Ríos regions."
The quakes caused power cuts along the coast of Lebu and much of Concepción, as well as minor damage to buildings and other infrastructure, Bío Bío Chile added.
🇨🇱 | Sismo de magnitud 6,2 en Chile. Las imágenes corresponden al interior de un cuartel del cuerpo de Bomberos de Cañete. #Concepción pic.twitter.com/Gw4czJwDIL

— Alerta Mundial (@AlertaMundial2) November 13, 2022
Quoted by the local television station Teletrece, the presidential delegate of the Bío Bío region, Daniela Dresdner, said that they were monitoring the chain of earthquakes. "We want to report that there is no risk of a tsunami and we ask people to please remain calm," she explained.
Chile is located in the southeastern part of the Pacific ring of fire , the most seismic zone in the world, and suffers hundreds of small telluric movements due to the subduction of the Nazca plate under the South American plate.
⚠️VIDEO | Tras el sismo 6.2 en Lebu, Familias completas evacuan a zonas altas a pesar que no hay alerta por tsunami (Chile).

Vía @CEspinozaQ pic.twitter.com/oNDmpfrU9w

— Sismologia Mundial (@SismoMundial) November 13, 2022