Demi Rose reveals her assets for fans after the swim as she climbs aboard on the boat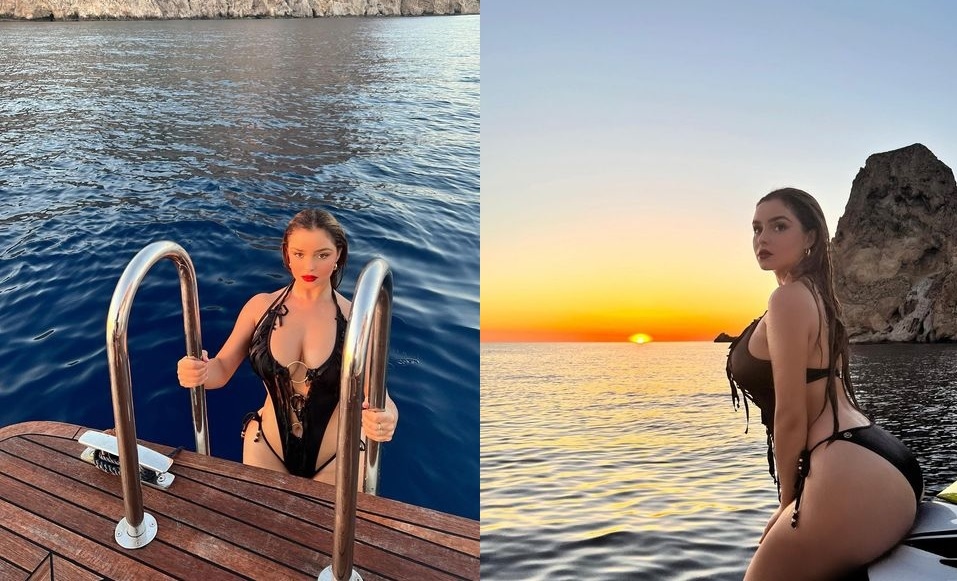 Influencer and Model Demi Rose published her latest racy snaps after a photoshoot in Spain and at the same time shares some stories about how she had trouble in life and how she made a turn.
27 year old model Demi Rose once again wear a plunging and revealing swin suit in the snaps that she shared on Instagram. In the photo fans can see a lot of her assets and her trademark curves between the gaps. This time she has again shared some racy snaps which has made the fans go crazy.
As per her Instagram post, the photoshoot has been done in Ibiza, Spain. She has called her session as 'Sunset Swim'. You can see her climbing the luxury boat after the swim. She looks extremely gorgeous in the black swim suit where the curve of her cleavage is completely visible and has forced her fans to comment on the post giving her the title of hot, beautiful and more..
If you remember, eralier this week, she had also posted few photos that might put her Instagram account on risk. She was taking a sunbath in a completely naked situation in Es Vedra. She has also posted her photo wearing noting but covering herself with a sheet in the middle of a heart-shaped ocean of red and white roses. Fans went crazy and needed little to imagine after looking at her uncovered curves that she tried to cover with her hand's palm.
According to the reports, Demi rose started her anti-depression pills just from the age of 15 when she was bullied by her friends. Demi also started consuming vodka binge from a very early age.
Demi rose found her name and fame after she started her career joining MySpage where she started posting her racy snaps. Later she became more popular with the website OnlyFans and now she is like a dream with a large fan base on every social media.
While in an interview on Dirty Mother Pukka podcast, She spoke about the tough moments of her life and how her tormentors had put chewing gum in her hair.
She said: 'Through my childhood at school, I just got bullied by everyone. Boys, girls, and so I wasn't really able to learn. Everyone just used to like to pick on me, put chewing gum in my hair, like, just to wind me up for their own entertainment.'
At the same time the stunner reportedly said that she was diagnosed with chronic fatigue syndrome, 'which means you're tired all the time', which she described as 'more like depression'.