They ask that the police officers of the Los Angeles district schools be fired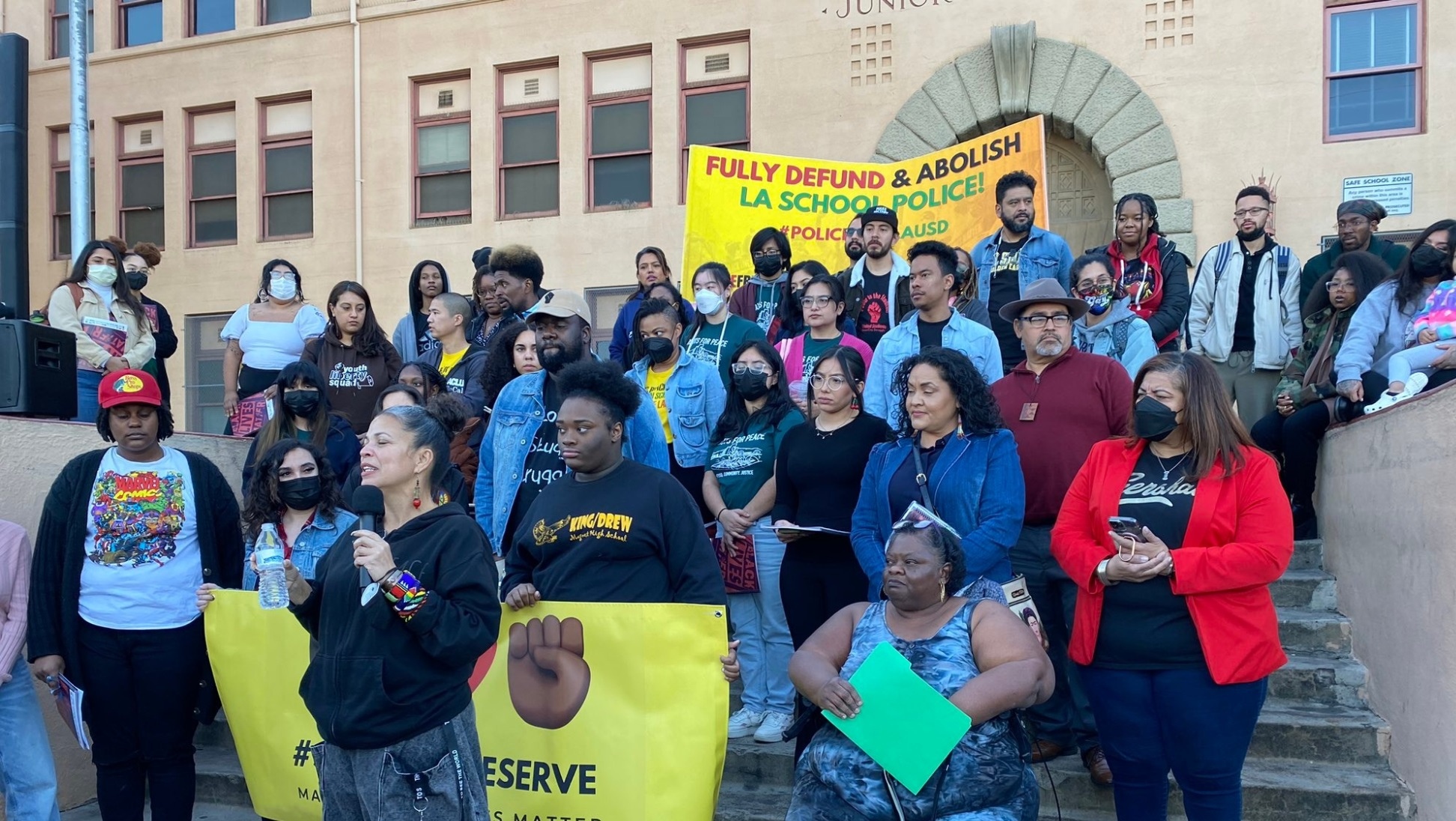 Activists link the police presence in the schools with the criminalization of young people; They ask that nurses, counselors and social workers be better hired
A coalition of parents, students and educators has demanded that the Los Angeles Unified School District (LAUSD) fire its police officers, whom it accused of relying on racist rhetoric against students of color.
The district could use the budget it spends on police officers to hire full-time permanent nurses, social workers, counselors and psychiatrists, the Police Free LAUSD Coalition claimed in its annual report.
"We know that school police are trauma for many students in many communities," Amir Whitaker, policy adviser for the American Civil Liberties Union (ACLU) in Southern California, told a conference.
He stated that as a lawyer he has "represented students who have been arrested for arguing over school lunch, or other minor issues, and the arrest criminalizes them and changes the rest of their lives, changes the entire trajectory of their lives."
The coalition's annual report says that "the presence of school police has been consistently linked to the criminalization and incarceration of youth."
It identifies policing in schools as "hostile, subjecting black and brown youth to arrest, harassment, and assault by police."
He gave as an example that "in LAUSD, black youth make up only eight percent of the student population, but they account for 25 percent of arrests, citations, and suspensions."
The report concludes that, as a vicious cycle, "policing in schools is a self-defeating practice that perpetuates inequality and creates barriers to the well-being and success of black and brown students. And such barriers lead to higher incarceration rates and generate economic inequities such as food insecurity and homelessness.
The coalition has reviewed the performance of school police in Los Angeles since 2007, and acknowledges that there have been some improvements, but believes that overall it hurts African-American and Latino students.
Representatives of all sectors related to the Los Angeles school district participated in the conference.
One parent said the school district should recognize the importance of parents in the educational formation of students as essential, but said she felt left out because "the district understands that we have power, and it doesn't want to share power."
He added that "black and brown parents should be invited" to make educational decisions for their children, because "only with the participation of parents will we see a change in (educational) policy and we can ensure that our children are educated properly."
Los Angeles Unified School Board representative for the 7th district, Tanya Ortiz Franklin, appeared at the press conference although she was not included among the speakers.
Ortiz Franklin said after attending the conference that "we have already heard the voices that matter most, our youth, our families, our educators and our community organization partners; now is the time for the (school) board to listen: we know our students need care, not policing."
Los Angeles School Superintendent Alberto Carvalho responded in a press release.
He said that "it is imperative to discuss the role of school police and other entities in the Los Angeles Unified School District community."
"This is a conversation from Los Angeles. We must ensure that all spaces that students occupy are safe. That means the streets our students walk on are safe pathways, the parks our students play in are drug and opioid free, and the neighborhoods our students live in are safe and secure," said Carvalho.
The superintendent's position is different from that of the coalition, which presented five recommendations in its annual report.
In short, the coalition wants the school district to replace police officers with personnel more related to education and student support; In addition, that schools rely on families, parents of students and local communities; that schools share decision-making power with teachers, parents, and communities.
They also requested that the programs be educational and comprehensive and that each student be considered as a whole, including the environment in which they live, and that schools recognize that in order to provide security for students, they must have programs that are "culturally in tune" with the students.
The alignment refers to the fact that the curricula must be relevant to black and brown students, that the presence of these students must be at all levels, but also that teachers are trained in a "culturally relevant pedagogy", and that schools partner with social organizations in communities of color.