12-year-old teenager in Mexico became the world's youngest molecular biologist
Time to Read: 4 minute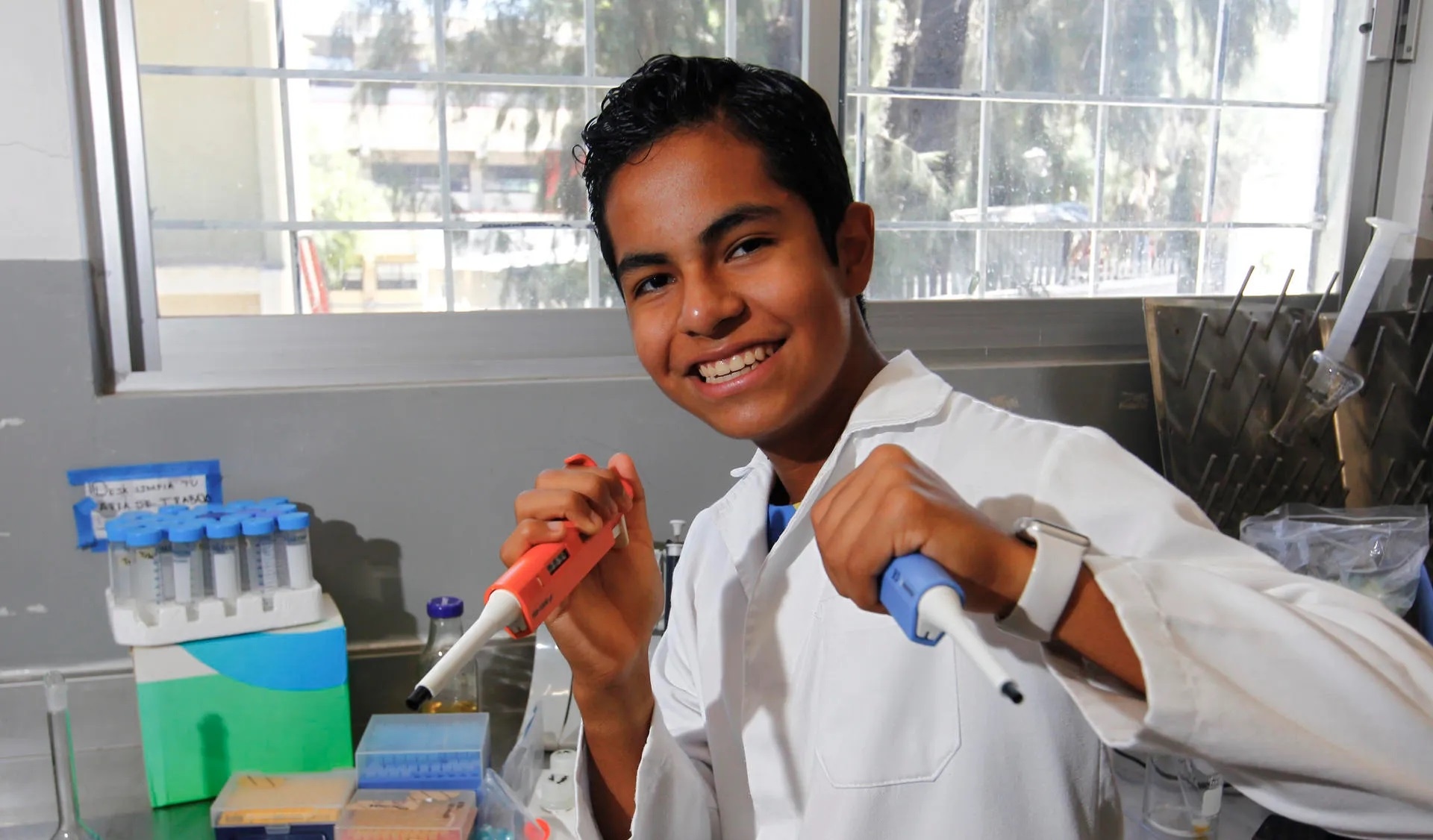 Ian Emanuel Gonzalez Santos, a gifted Mexican teenager, graduated with honors with a bachelor's and master's degree in Molecular Biology
Ian Emanuel González Santos, a gifted teenager, is the youngest molecular biologist in the world, after completing his Master's Degree in Molecular Biology at a Mexican university at just 12 years old, while competing as a high-performance athlete.
He is an admirer of the Portuguese player Cristiano Ronaldo, has two cats as pets, likes "parkour", electronic and pop music, in addition to spending his free time in the video game "Grand Theft Car V". The 12-year-old boy is restless like any teenager but, at the same time, out of the ordinary.
At 18 months he had the vocabulary of an adult, at 3 years old he learned to read, at 6 he was diagnosed with a high IQ and at 9 he accredited primary, secondary and high school in one go to enter a degree in Biological Pharmaceutical Chemist, at the exact sciences campus of the University of Guadalajara (western Mexico).
"Since I was little I had knowledge of chemistry, microbiology, hematology, biology, molecular, I also participated in general chemistry contests, I won first and second place and at that point I said: I need to learn more, I need to go deeper; I accredited all my degrees and began to look for a career that had all these branches involved",
Amidst experienced scientists and students twice his age, Ian made his way into a world that increasingly captivated him, so much so that he was able to enroll in a master's degree midway through his degree in an attempt to quench his hunger for research. knowledge.
His mother, Sandra Santos, has been his accomplice to open educational spaces for him and sought the necessary support so that he could pursue his master's degree at the same time as his bachelor's degree.
"When I finished my master's degree I had such wonderful, incredible knowledge and I It perfectly complemented what they taught me in the subjects of molecular biology and genetics, that is, I had a lot of doubts and going even deeper seemed so wonderful to me . I thank my mom and everything I learned because that way I had more knowledge, more questions and I've learned a lot more," he said.
She graduated with honors from her bachelor's and master's degrees, but she was always interested in doing scientific research. He recently collaborated with an academic from his campus in an investigation to find a way to degrade PET plastic by bacteria.
"I am working hard to make this bear fruit and also to be able to give something to humanity, to have an article published, even if it's as a research assistant so to speak, even if it's not a big step," he declared. .
Breaking a way
His high IQ hasn't spared Ian obstacles and hardships. The boy faced bullying from his classmates during the few years he studied elementary school and teachers who did not respond to his concerns, nor were they able to give him the knowledge his mind needed.
Faced with a traditional school system in which students are treated equally, the young man left elementary school when he was in fourth grade and dedicated himself to studying with his mother at home to be able to accredit his studies independently. He also took any science course that interested him, which forced his family to leave their native Puerto Vallarta, his mother told EFE.
"Facing all that was exhausting, quite a challenge for me. He suffered, so it didn't make any sense for him to attend a school that didn't provide him with any kind of knowledge. It was difficult to make the decision because that meant leaving our life in Puerto Vallarta, leaving everything for him to be what he is now, a happy child, a full child," he said.
As soon as he entered undergrad, Ian began training in the 80 and 150 meter dash in track and field and represented his state in national competitions. To achieve better performance and avoid injury he had to give up "parkour", one of his passions. In return, he achieved third place in local competitions.
"Due to the pandemic I had to leave it, about 6 or 8 months ago I resumed athletics a little more professionally and it has also paid off this effort. I train for 3-4 hours a day and it's extremely heavy and exhausting, but I have had my achievements," Ian said proudly.
A bright future
While training, Ian plans to pursue a PhD to develop research related to premature cellular aging and disease prevention. Now he is not sure where that next step will take him, although he has received offers from universities in the United States and Spain.
But his dreams are not limited to science and the possibility of doing something for humanity, rather, he sees himself representing Mexico in international sports competitions.
"I would like to study for a doctorate. I am looking for the best option and also to be a high performance athlete and even make it to the Olympic Games. I would love it," he concluded.
Read full article