How big are the fires that are hitting Canada and filling New York with smoke
Time to Read: 5 minute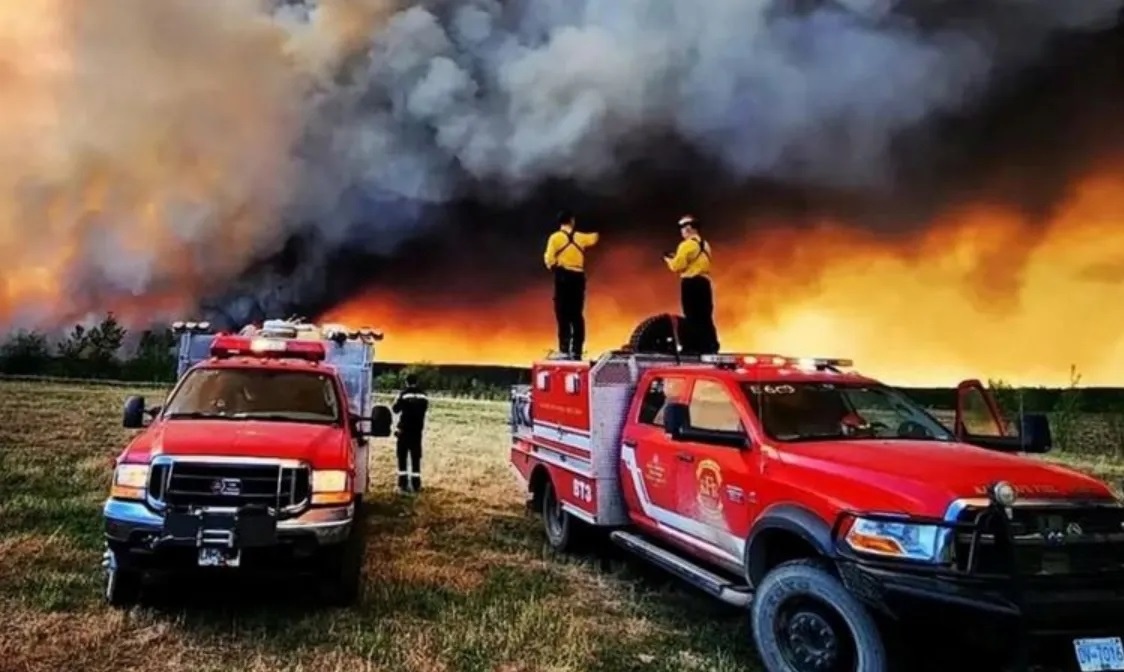 It is common for there to be fires at this time of year, but they are being the most virulent in the last decade,
This may be Canada's worst wildfire season on record, Canadian state officials warn.
So much so that smoke from these fires has covered a large area of ​​eastern North America and is wreaking havoc in cities like New York.
The fires started in early June in the Canadian province of Quebec, influenced by the dry and hot climate, as well as several lightning strikes.
And its spread was fast. From an initial 36 fires, it grew to more than 100 after a thunderstorm on June 1.
It is common for there to be fires at this time, but this season they are being more virulent. "In three days, everything went wrong," said Phiplippe Bergeron, of the Quebec firefighting agency.
Nearly four million hectares of land have burned so far in the country, 12 times above the average of the last 10 years for this time of year.
"That is the equivalent of almost 10 million football fields", And with so much fire, local resources for extinction have been exhausted. For this reason, firefighters from France and the United States have had to be called upon to help with the extinction work.
Quebec, the most affected
In the case of Quebec, the fires they dropped this week from 150 to just over 130. But the problem, Bergeron explained, is that they are merging with each other and getting bigger.
Quebec has never seen wildfires on this scale, occurring most typically in parts of western Canada, such as Alberta and British Columbia.
Across the country, more than 20,000 people have had to be evacuated from their homes, 15,000 of them in Quebec.
The situation remains worrying in several regions, explained Stephane Caron, from the Society for the Protection of Forests against Fire, SOPFEU in its French acronym.
"We are only at the beginning of this fire season. "We are now entering the period when larger fires typically start to occur in Quebec," she said.
The risk of a new outbreak is rated "extreme" by the authorities in the western part of this province.
The unusually busy season has prompted some calls among politicians for the creation of a national fire service. Canada generally relies on each province sharing resources or aid from neighboring US states.
When those resources run out , provinces are asking the federal government for military support, as well as other countries for international assistance, said Brian Wiens, managing director of Canada Wildfire, an organization that researches wildfire management in partnership with provincial firefighting agencies.
With so many fires burning at once this year, provinces fighting their own fires now find themselves too tense to share resources.
On Wednesday, Prime Minister Justin Trudeau acknowledged that his government is considering creating some sort of national disaster response agency.
New York under an orange cloak
Just over 800 kilometers separate Quebec, in Canada, from New York, in the United States. But the effects of the fires loom large in the skies over the Big Apple.
An orange haze blanketed the city's skyline, obscuring landmarks like the Statue of Liberty.
Public health officials have People have been warned not to exercise outdoors and to minimize their exposure to smoke as much as possible, as the air poses immediate and long-term health risks.
Experts say exposure to Smoke can cause a number of health problems, including elevated pulse rate, chest pain, and inflammation in the eyes, nose, and throat.
"We are seeing an increased number of asthma-related visits in emergencies", a spokesman for the New York health department told AFP.
At train stations, bus stations and parks, health officials have handed out masks and public schools have been called to switch to remote teaching mode, at least for now.
Linda Juliano, a 6-year-old secretary 5 years, gladly accepted one of these masks. "she had never seen anything like it. "She reminded me a lot of 9/11, seeing the sky full of smoke and everything, she told AFP, describing the sepia smog as "I'm sorry."
Smoke affects Washington, DC, too For example, in the Union Market area, a place that is often packed with people eating outdoors in the afternoon sun, this week the chairs were empty.
In the area is Tori, who has just removed a mask and has it tied to her wrist. He just made a trip from another part of the country to Washington DC and told the BBC that he noticed the change in the air.
"While I was driving, I noticed that it was cloudier, and I also feel a bit happier. little different. He had a headache. It's very scary, if you think about it," she said.
Not surprisingly, the city achieved "Code Brown," the highest category of the Air Quality Index (AQI), indicating conditions dangerous to health. The index even surpassed the world's most polluted cities.
About 111 million people in the United States are under air quality alert due to the fires, the US Environmental Protection Agency said Thursday.
The White House postponed an outdoor Pride event, though a parade and festival scheduled for the weekend were still underway. In turn, the National Zoo announced that it would close "for the safety of our animals, our staff and our guests".
Smoke also affected flights. The Federal Aviation Administration took steps to "safely manage traffic flow to New York City, Washington DC, Philadelphia and Charlotte".
Climate Change Alert
"Millions of Americans are experiencing the effects of smoke resulting from the devastating wildfires burning in Canada, another stark reminder of the impacts of climate change," Biden said in a statement.
"If you want to know what climate change will be like, this particular month is pretty typical of what you can expect," Brian Wiens said of the matter.
Environmental groups also called attention is rapidly drawing attention to climate change, which is creating hotter and drier conditions that increase the risk and extent of wildfires.
And while it is part of North America that is being directly affected by them, the traces of the wildfires in Canada extend further: smoke was detected thousands of miles away this week, in Norway, according to warned this Friday the NILU Institute for Climate and Environmental Research of the Scandinavian country.
*With the report by Nadine Yusif from Toronto and Bernd Debusmann Jr, Chelsea Bailey and Juan Benn in the United States.
Read full article