Hotel workers march in Los Angeles determined to hold out strike
Time to Read: 6 minute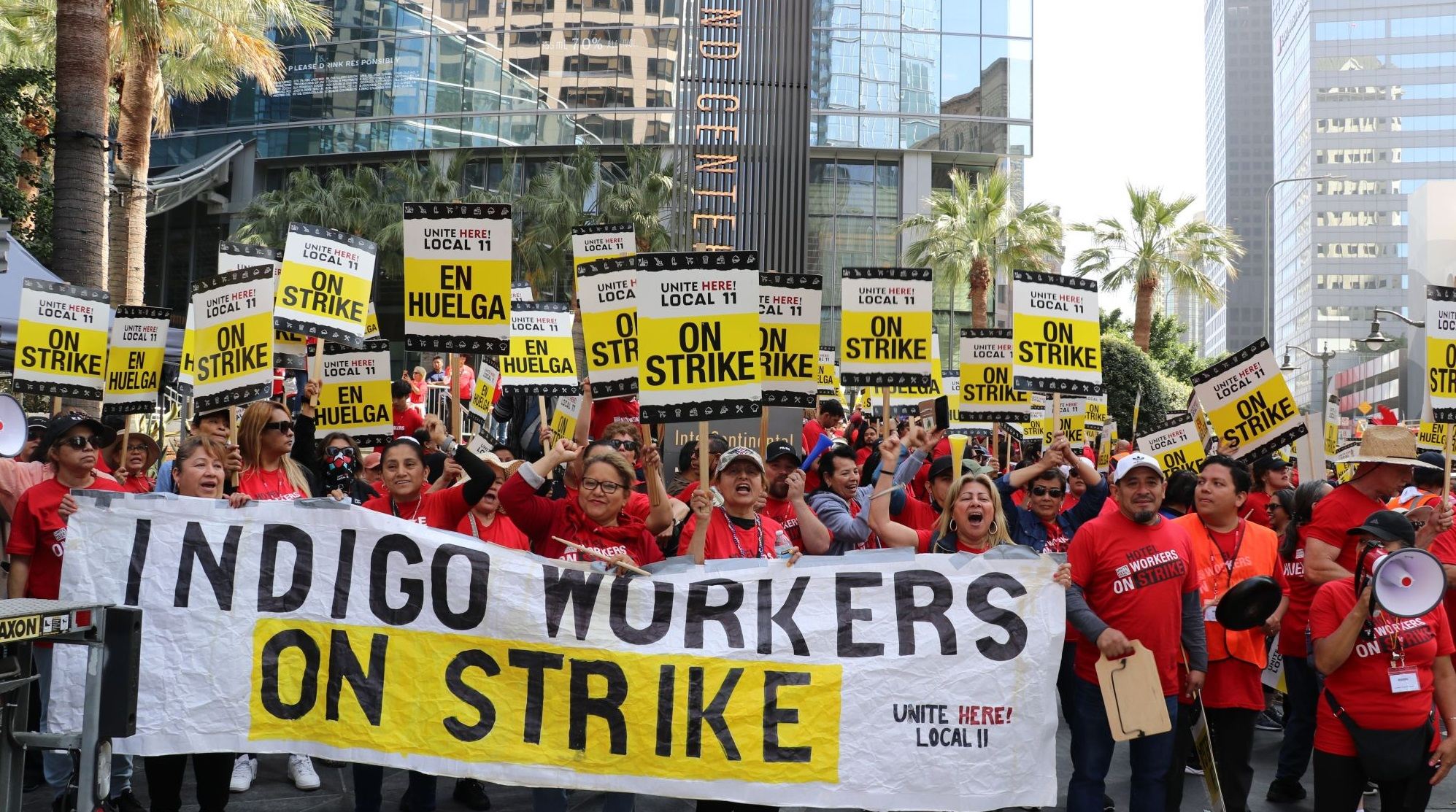 On Independence Day, thousands of employees stand firm in their work stoppage; Until today there are no indications of a solution.
Some 3,000 Unite Here Local 11 hotel workers in Los Angeles and across Southern California marched determined to hold out their strike for as long as it takes to achieve the goal of a $5 raise 00 per hour and not lose health insurance.
"We will continue until it thunders," said Claudia Sandoval, a dishwasher at the Hotel Índigo, where some 138 workers joined the strike at 6:01 a.m. Sunday.
Despite In temperatures above 80 degrees on the 4th of July, thousands of workers braved the scorching heat and rallied their rally and march from the Intercontinental Hotel on Figueroa Street to the JW Marriott Hotel in LA LIVE.
"I fight for my rights," said Herminia Ramírez Valencia, 62, 37 of which she has dedicated to cleaning hotels.
" Here, at the hotel (Índigo) I have been here for two years he declared. "But imagine, it took me a year to get an appointment approved for a mammogram."
Of the 32,000 hotel, restaurant, airport, sports arena and convention center workers that Unite Here Local 11 represents in its Southern California and Arizona unions, some 3,000 of the 15,000 on strike took to the streets central offices of the city to protest the absence of a labor contract and to denounce the conditions in which they work on a day-to-day basis.
"InterContinental listen, we're in the fight!", Hilton listen, we're in the fight!", "No contract, no peace!" the strikers shouted before the astonished gaze of hotel guests located in the heart of the Los Angeles city.
The contract between the hotels and the union expired on Saturday, June 30, at 12 noon. :01 a.m., although an agreement was reached Wednesday night with the largest of the employers, the Westin Bonaventure Hotel & Suites, located at 404 South Figueroa Street.
"We'll be smart"
"People came out angry to protest the injustices in the hotels," Kurt Petersen, co-chair of Unite Here Local 11, told La Opinion. "But we marched determined and with the hope that we are going to win."
Petersen stated that unionists are prepared for any contingency during the strike, and even willing to be arrested, as were he and the union's co-presidents: Ada Briceno and Susan Minato.
"We will do what it takes to win, and I think the hotels know that. They are defeated. They just need to figure out how they are going to get out of this", he asserted.
The work stoppage is taking place in stages and without prior notice. On average, some 20 hotels are already affected, and could extend to almost 65, in the cities of Los Angeles, Santa Monica and Orange County.
Kurt Petersen stressed that they will be on strike for as long as it takes.
Jennifer is participating in the first strike of her life. Councilor Hugo Soto Martinez bears witness to the moment.
"But we're going to be smart," he warned. "We have already gone out in downtown Los Angeles and Santa Monica, and there are already many other hotels ready to go on strike at any moment. And we will do it when we have to."
The union struggle has received the support of the members of the Writers' Guide who declared their work stoppage on May 2, in addition to the leaders of the Clergy organization and Laity United for Economic Justice (CLUE). the International Union of Service Employees SEIU-USWW chaired by David Huerta, and politicians such as Senator Maria Elena Durazo, Assemblyman Miguel Santiago and Councilor Hugo Soto Martinez.
"Our people don't earn enough to buy food and pay rent. It is necessary that the large corporations that become millionaires at the expense of the sweat of the workers pay them a decent salary to put an end to the injustices", commented Assemblyman Santiago, to La Opinion.
In front of the JW Marriot hotel Councilor Hugo Soto Martínez stated that the beauty of the union movement occurs when workers take their own destiny into their own hands.
"We are the people who make the beds, who clean the dishes, who make everyone's meals and gardens, and when they don't give us respect, then we take to the streets to ask for respect," explained the councilor Soto.
"Every day we see that people can't afford rents of $3,000 or gas of $6.00 a gallon, and the people who lift this country up suffer the most."
They want $5.00 more an hour
In addition to the $5.00 per hour wage increase, workers oppose being forced to pay their health insurance in full in the first year of a potential new contract. Right now, they earn an average of $18.86 and, according to union estimates, in order to live in Los Angeles, they would need to earn a salary of $39.31.
"No one can live on $18 an hour; That's not fair because the cost of living skyrocketed after the pandemic," said Florida Santiago, a 62-year-old from Acapulco who works at the June Hotel in Marina del Rey.
"I have been working as a cleaner for 39 years and for what they pay me I have to clean 15 rooms in eight hours," the woman narrated. "In this job I have spent the best years of my life; four years ago I hurt my knees cleaning the bathroom tubs; They operated on me, but even so I have to continue working."
And, according to Ada Briceno, vice president of the union, for now no meeting between the negotiating teams of the labor conflict has been considered.
Keith Grossman, lead spokesman for the Coordinated Bargaining Group representing 44 Los Angeles and Orange County hotels, released two statements issued in connection with the strike, regarding employee health coverage.
"The union is not being honest about employee health care coverage and it knows it. The Bargaining Group proposal ensures that the Employee Health Care Fund remains very well funded so that employees continue to enjoy their quality, affordable health care coverage for the next 4 years."
Grossman, on behalf of several law firms, said the group has been negotiating with UNITE HERE, Local 11 over the past few weeks for a new labor agreement to replace the current agreement that expired on June 30. "From the beginning, the union has shown no desire to enter into productive, good faith negotiations with this group."
The hotel spokesperson noted that the Coordinated Group has offered wage increases of $2.50 per hour in the first 12 months and $6.25 for 4 years.
"Housewives in Beverly Hills and Downtown LA Union, who currently earn $25 an hour, would receive a 10% pay increase in 2024 and would earn more than $31 by January 2027," Grossman said.
"The hotels' offerings also ensure the continuity of current quality, affordable healthcare for employees for themselves and their families; in addition to continuing to contribute to a guaranteed pension."
Grossman said that in response "to this significant offer, the union canceled a scheduled bargaining meeting and has refused to schedule additional bargaining before the expiration of the current contract, choosing political and public relations tricks and strike preparation over good faith negotiations'.
"The union hasn't budged on its opening demand for two months, for a wage increase of up to 40% and an increase of more than 28% in benefit costs. Even more problematic, he stressed, the union continues to push proposals that are not in the interest of hotel employees, such as requiring hotels to agree to a 7% tax on hotel guests."
Another demand , would be for hotels to publicly support a ballot measure to house the homeless in all Los Angeles hotels. along with other guests, and to force unionization on non-union hotel employees who to date have chosen not to join a union.
"Based on the actions of the union, it is clear that they are not focused on the interests of our employees and their members and are instead focused on their political agenda," Grossman said.
Read full article