Fire Helicopter Crash Leaves Three Dead in Riverside County
Time to Read: 2 minute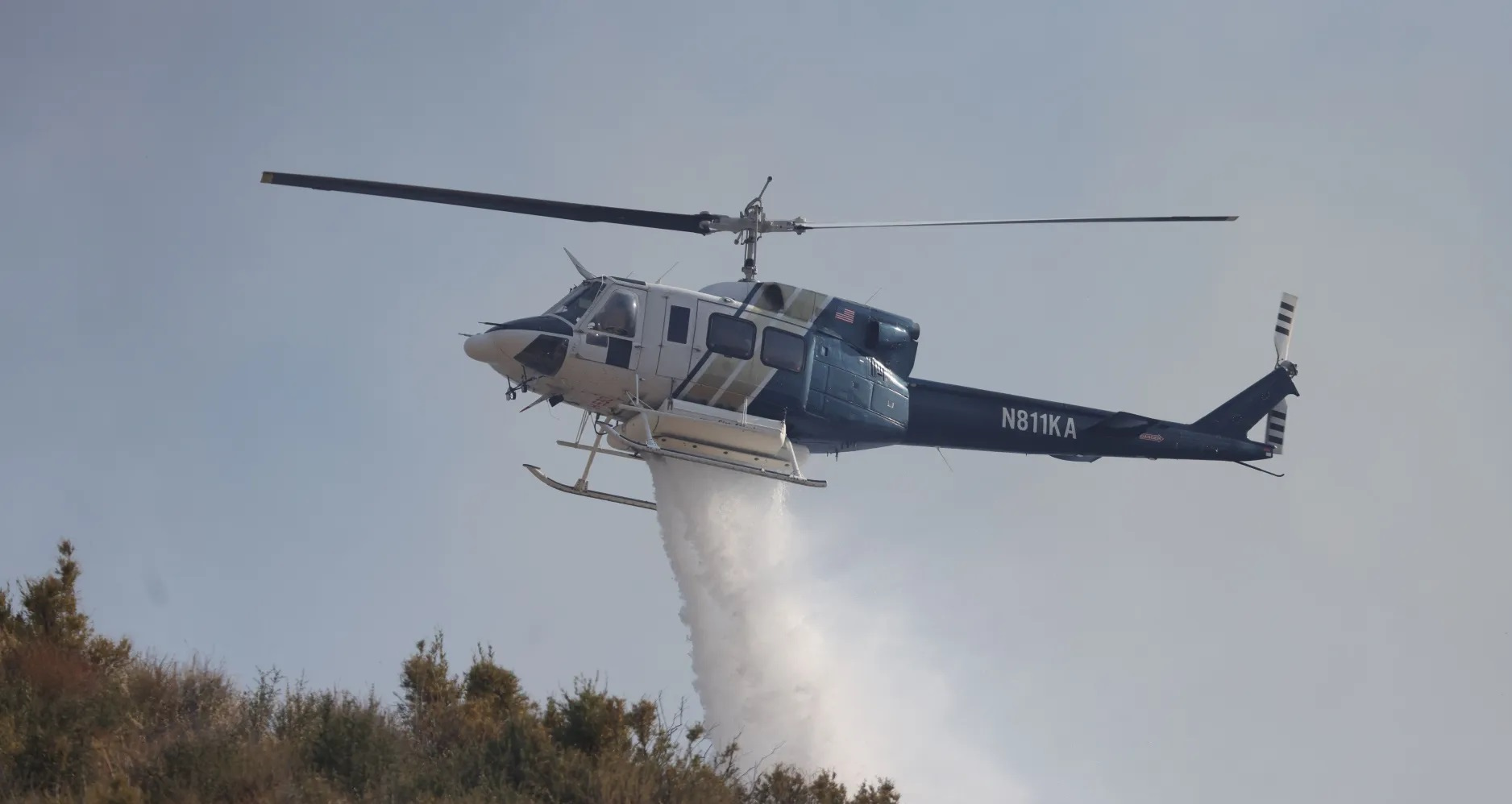 A helicopter crashed into a hillside, killing its three occupants, the pilot and two members of Cal Fire; the other aircraft involved managed to make a forced landing and its two occupants were not injured.
A pilot and two crew members died when two firefighting helicopters collided in mid-air Sunday afternoon in the Cabazon area of ??Riverside County.
The crash happened at about 7:20 p.m. in a remote area near Pipeline Road and Apache Trail in the town of Cabazon, according to the Riverside County Sheriff's Department.
At 7:20 pm, RSO deputies responded to the area of Pipeline Road and Apache Trail in #Cabazon reference an air emergency. 1 plane crashed at the location. The circs surrounding the crash are unknown at this time. The investigation is ongoing. All updates will be posted here.

— Riverside County Sheriff (@RSO) August 7, 2023
Officials said fire crews were battling a 20-acre blaze called the Broadway Fire that had spread from a burning structure near Broadway Street and Esperanza Avenue earlier that night.
The morning of This Monday, at a press conference, the authorities reported that at the time the accident occurred, six aircraft were in the area, two of which had contact in the air.
After impact, one of the helicopters, a Bell 407 used for observation, crashed into a hillside, killing all three occupants, a pilot and two crew members. They involved a contract pilot, a Cal Fire division chief and a Cal Fire captain, whose identities have not been released.
The other helicopter involved, a Sikorsky S-64E normally used to discharge retardant or water, it made an emergency landing and neither of its two occupants was injured.
This accident caused another fire that spanned four acres, which was later contained.
The crashed helicopter was operating under contract with firefighting agencies.
Conditions at the time of the accident were reported to be mostly clear skies, with wind speeds ranging from 9 to 14 mph and gusts of 17 to 25 mph, said meteorologist Mark Moede, of the National Weather Service, to the Los Angeles Daily News.
"I would like to express our heartfelt condolences and condolences to the families and co-workers of the staff. This was a tragic loss to the fire service community and to the Riverside County Fire Department and Cal Fire, Cal Fire Southern Region Chief David Fulcher said.
On Sunday night, the bodies of the three dead were escorted from the crash site to the facility of the Coroner's Office, in Perris.
Agents of the National Transportation Safety Board will remain in charge of the investigations to determine the causes that led to the accident.
Read full article