Russian missile attack on civilian convoy kills 25 in Ukraine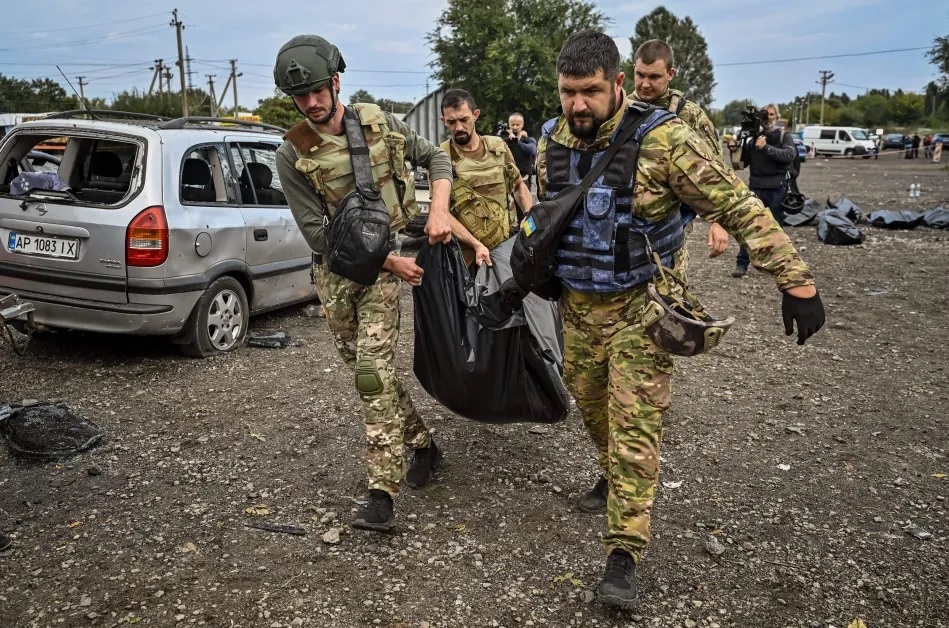 A convoy of defenseless Ukrainian civilians was waiting outside a market in Zaporizhzhia to deliver aid and pick up relatives intending to leave the Russian-annexed region, when they were attacked by three missiles.
A wave of suspected Russian missile strikes killed at least 25 Ukrainians on Thursday as victims waited to deliver aid and collect relatives from an area annexed by Russian President Vladimir Putin in violation of international law.
At Avtorynok, a vintage car market on the southern fringe of Zaporizhzhia, the regional capital, a group of civilians had waited all night to cross into Russian-controlled territory.
The wider Zaporizhzhia region is one of four where Russia has orchestrated referendums in a bid to legitimize annexation, but only part of the region is under Russian military control.
In interviews with Washington Post reporters Thursday, the civilians described the reason for their trip.
Some were doctors crossing the battle lines to perform life-saving surgeries in hospitals that Russian forces have been unable to adequately resupply.
Others were ordinary civilians trying to rescue loved ones who were too old or too sick to make the journey themselves.
"What choice do I have? He is my relative," said one man, Serhiy, as he waited to join the convoy, asking that his last name not be used for fear of his safety.
Serhiy said he understood the danger but saw no other option.
Many residents of the occupied Ukrainian territory who remained at home after Russian forces invaded and took control finally decided to flee in recent days, following Putin's announcement of his annexation plans.
Early Friday, as the convoy waited to depart, three missiles crashed into the ground around the vehicles, eyewitnesses at the scene said.
It was unclear whose bodies lay under the blankets and tarps that assembled security forces and medics used to wrap the dead.
Some of the victims fell next to their cars or into the bushes where they had sought safety.
Hours after the attack, several shocked survivors were still there and at a loss. When one received a phone call, he answered and simply said, "I'm here. I'm alive," and then hung up.
Violating international law, Putin will sign the annexation of Ukrainian regions
At least 25 people were killed in the attacks, authorities said.
In local hospitals, surgeons in operating rooms were scrambling to save the lives and limbs of at least 15 other victims of the missile attack.
Ukrainian officials said the missiles appeared to have been fired from an S-300 surface-to-air system.
Ukrainian President Volodymyr Zelensky has accused Russia in recent days of firing missiles at civilian infrastructure and other non-military targets. Zelensky denounced the larger attacks as an act of cowardice following the disorderly withdrawal of Russian soldiers from the northeastern Kharkov region.