Texas factory gas leak disaster: 23 people died after multiple explosions in 1989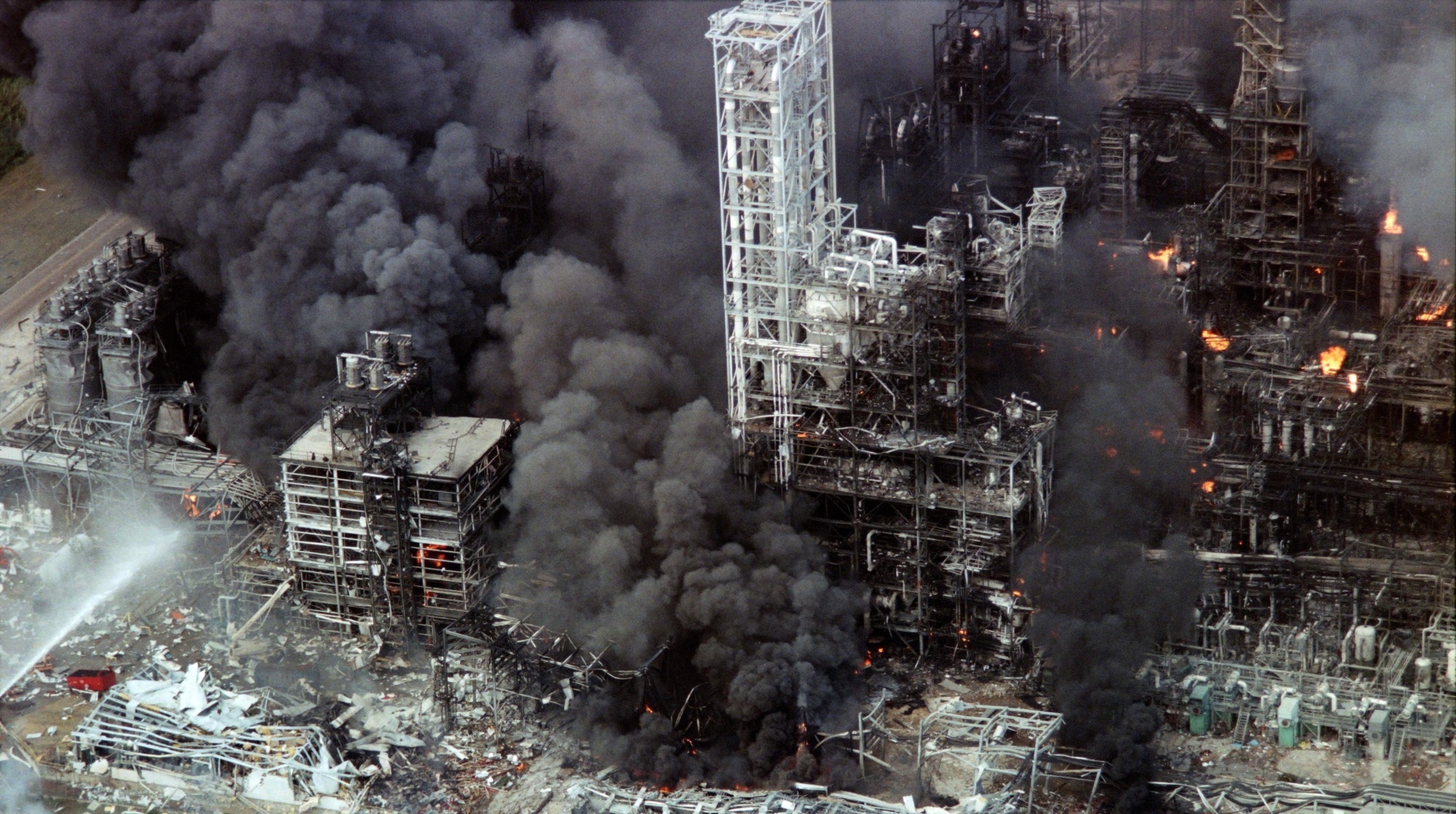 The explosions, which took place at a Phillips Petroleum Company plant, were caused by inadequate safety procedures.
On October 23, 1989, 23 people were killed in a series of explosions caused by an ethylene leak at a factory in Pasadena, Texas.
A polyethylene reactor at the Phillips 66 Chemical Complex in Pasadena created chemical compounds needed for the production of plastics. The plant produced millions of pounds of plastics daily for use in toys and containers.
In an effort to cut costs, Phillips outsourced much of the necessary maintenance work at the plant.
Fish Engineering and Construction, the main subcontractor, did not enjoy a stellar reputation even before the October 23 disaster.
In August, a Fish employee opened a gas pipeline for maintenance without insulating the line. This caused flammable solvents and gases to be sent into a work area where they ignited, killing one worker and injuring four others.
Fish was performing maintenance work on the plant's polyethylene reactor on October 23 when, once again, problems arose. A valve was not properly secured, and at approximately 1:00 pm, 85,000 pounds of highly flammable ethylene-isobutane gas was released into the plant.
There were no detectors or warning systems to warn of impending disaster. Within two minutes, the great cloud of gas was ignited with the power of two and a half tons of dynamite.
The explosion could be heard for miles in all directions and the resulting fireball was visible at least 15 miles away. 23 Phillips workers were killed and 130 others seriously injured when the first blast set off a chain reaction of explosions.
A subsequent investigation found that although the Occupational Safety and Health Administration (OSHA) had cited Phillips for several serious safety violations in previous years, it had not conducted a comprehensive inspection of the plant since 1975.
Other testimonies revealed that inadequate safety procedures used during the maintenance process had left the plant vulnerable to disaster. However, no criminal charges were filed against Phillips or his managers.