Taylor Swift showed the panties at the MTV EMA's 2022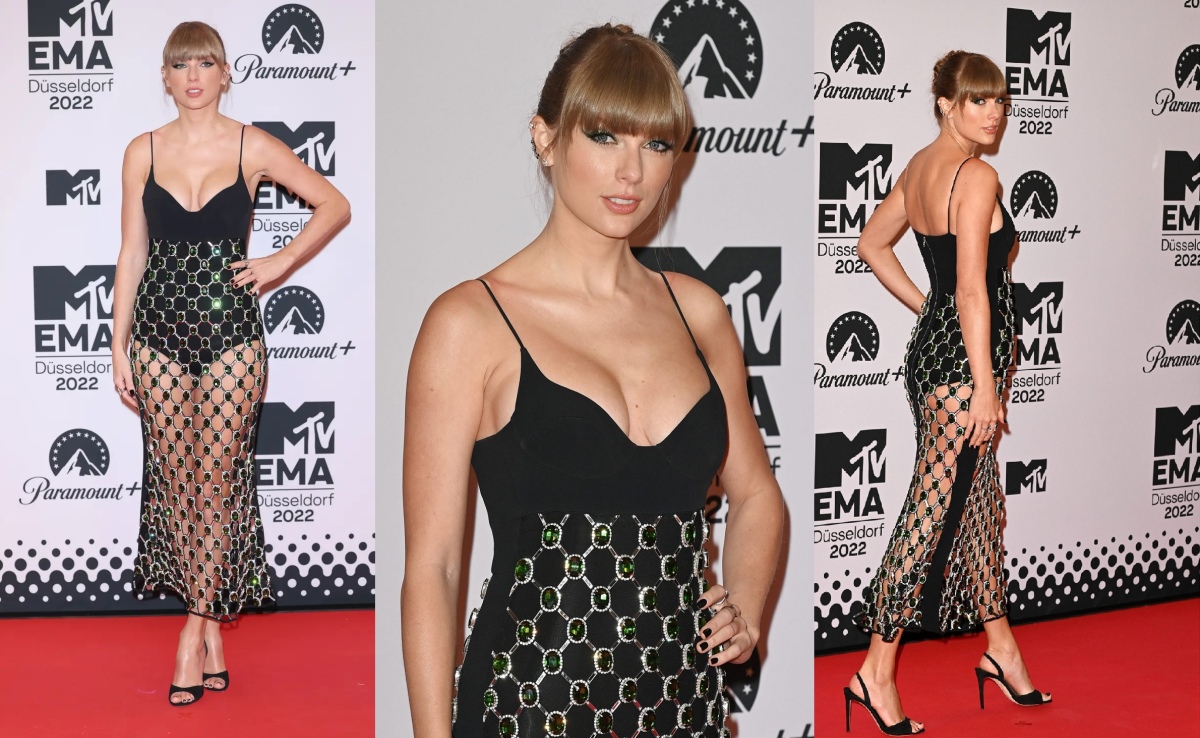 Taylor Swift dropped jaws when arriving on the red carpet of the MTV EMA's 2022 with the panties on view through a very sexy mesh dress
WOW! Taylor Swift 's appearance at the MTV EMA's 2022 did become a surprise for her followers and even for those who do not follow her, since the music star chose a sensual look for the occasion , showing the her pants
Taylor Swift arriving to the MTV EMAs! #MTVEMAs pic.twitter.com/ctwk1MmbKO

— Taylor Swift Updates (@SwiftNYC) November 13, 2022
Taylor Swift strutted down the awards red carpet in a bodysuit designed with a plunging neckline and a mesh-style beaded knit skirt, which allowed her to pose in her panties and show off her tanned thighs.
Taylor Swift, Gorillaz and Muse were among the stars who kicked off the MTV #EMAs 2022 in Germany https://t.co/HPJ7ATxpQm pic.twitter.com/BrZIQx2bMJ

— Reuters (@Reuters) November 14, 2022
While it is true, the beauty of Taylor Swift has never gone unnoticed. However, this time he combined her with this outfit that revealed her attributes.
Also, a second outfit would give something to talk about. For the reception of the MTV EMA's 2022 awards, the American businesswoman also chose to wear a short dress, with a chemise neck, short sleeves and a lot of shine.
"She did light up the place", "She is like a living legend", "I am so proud of her", "She is the best contemporary artist, she deserves her awards", are some of the comments exposed in different publications that circulate in the social networks, in reference to the participation of Taylor Swift in the MTV EMA's 2022.
But this would not be the only reason why Taylor has been listed as the queen of the night. The singer won four important awards at the MTV : "Best Artist", "Best Pop Artist", "Best Video" and "Best Long Duration Video", both for her version of more than 10 minutes of the song "All Too Well". But you can't forget her wonderful album "Midnights" , which she's been very hesitant to talk about as well.
It's been 10 years since the last participation of the interpreter of "Anti-hero" in some MTV EMA's and it couldn't have been better. Between prize and prize, Selena Gomez 's best friend was served to especially thank her followers for the support they have given her for years.
"I want to thank the fans for the support and for making all of this happen," said Taylor Swift. In addition, she assured that she respected all the colleagues with whom she shared the nomination, including: Harry Styles , Nicki Minaj , Rosalía , Beyoncé , Adele and many more.